BCCF E-MAIL BULLETIN #29

As usual, submissions are encouraged and most welcome; thank you to all who
contributed to this issue.

To subscribe, send an e-mail to me (note my new address: swright2@telus.net) or
sign up via the BCCF webpage (www.chess.bc.ca); if you no longer wish to receive
this bulletin, just let me know.

Stephen Wright

[back issues of the Bulletin are now available on the BCCF web site: www.chess.bc.ca/newsletters.html]


UBC TUESDAY NIGHT SWISS - SEPTEMBER 2003 by Lyle Craver


This tournament was rather spotty, mostly due to my role this tournament as
"house player" the first two weeks followed by my two weeks absence during my
business trip to Hong Kong 9/14 to 9/24.  In my absence I was assisted by my
good friend Jason Feng.  After starting with 3.5 / 4 Albert Xin Jiang needed
only a last round draw with second ranked James Chan to win clear first, which
he did to finish at 4, with Peter Broz winning 1st under 1800 at 3/5.

 # Name             Rating CFC# Expiry  1   2   3   4   5  Total
 1 Jiang, Albert Xin 2079 123793 01/00 + 8 + 2 + 7 = 3 =11 4
 2 Krzyzowski, Ernie 1797 101530 12/03 + 9 - 1 + 5 -11 - 4 2
 3 Azmitia, Eduardo  1771 135217 01/04 = 0 = 5 = 9 = 1 - 0 2
 4 Fekete, Charles   1754 108064 03/04 = 0 - 7 =10 = 0 + 2 2.5
 5 Feng, Jason       1672 104911 12/03 = 0 = 3 - 2 = 0 - 9 1.5
 6 Craver, Lyle      1670 100314 Life  +10 - 0 - 0 - 0 - 0 1
 7 Miller, Mike      1669 133291 04/04 = 0 + 4 - 1 = 9 - 0 1.5
 8 McNichol, Paul    1611 120735 08/03 - 1 = 0 = 0 = 0 -10 1.5
 9 Broz, Peter       1565 101468 12/03 - 2 +10 = 3 = 7 + 5 3
10 Jiang, Louie      1157 133987 10/03 - 6 - 9 = 4 -12 + 8 1
11 Chan, James       1979 128285 09/01 = 0 = 0 = 0 + 2 = 1 3
12 Pickering, Austin Unrated New   New = 0 = 0 = 0 +10 - 0 2.5

DGT XL VANCOUVER FIDE MATCH (September 27-28, 2003) by Vas Sladek

The arrival of Ben Morgan, a Ph.D. candidate from England, coincided with the
arrival of the new DGT XL FIDE clocks in Vancouver. A quick phone call to
Dragoljub Milicevic followed and we had a FIDE-rated match! The venue was
generously provided by Scot Sorensen, director of the East Vancouver branch of
Sprott-Shaw Community College. Vas Sladek organized everything else and
directed.

Ben ruled on Saturday. He struck first in game one; then he overlooked 35.fxe4!
in game two and a draw was agreed. Dragoljub came back on Sunday, winning a
messy game three and drawing a bad position when Ben underestimated the king
march from g2 to e5.

For a well-fought match both players received ChessBase magazine issues from
Chess First! Enterprises.

Morgan,B - Milicevic,D [A80] DGT XL Vancouver FIDE match (1), 27.09.2003

1.d4 f5 2.Nc3 d5 3.Bg5 Be6 4.Qd2 Nd7 5.f3 h6 6.Bf4 g5 7.Bg3 f4 8.Bf2 Bg7 9.g3
fxg3 10.Bxg3 c6 11.e3 Qa5 12.Bd3 Bf7 13.Nge2 a6 14.h4 c5 15.hxg5 hxg5 16.Rxh8
Bxh8 17.Ne4 Qxd2+ 18.Nxd2 e5 19.dxc5 Nxc5 20.Bf5 Ne7 21.Bg4 Bg6 22.0-0-0 Rd8
23.Bf2 b5 24.e4 d4 25.Rh1 Kf7 26.Kb1 Bg7 27.Nc1 Nc6 28.Ndb3 Nxb3 29.axb3 Bf8
30.Nd3 a5 31.Be1 Kg7 32.Bd2 Be7 33.Kc1 Bf7 34.Bf5 a4 35.bxa4 bxa4 36.Rh7+ Kg8
37.Rh2 Kg7 38.Nf2 a3 39.bxa3 Bxa3+ 40.Kd1 Rb8 41.Rh7+ Kg8 42.Ng4 Rb1+ 43.Ke2
Bc4+ 44.Kf2 Be7 45.Rh6 Rf1+ 46.Kg3 Rg1+ 47.Kh2 Rd1 48.Rxc6 Rxd2+ 49.Kg1 Bf7
50.Rc7 Kf8 51.Nxe5 Bd6 52.Rxf7+ Ke8 53.Bd7+ Kd8 54.Nc4 Bh2+ 55.Kf1 Rxc2 56.Be6
Rc1+ 57.Ke2 Ke8 58.e5 d3+ 59.Kxd3 Rd1+ 60.Ke2 g4 61.Nd6+ Rxd6 62.exd6 gxf3+
63.Kxf3 Bxd6 64.Ke4 Ba3 65.Bd5 Bb2 66.Kf5 Kd8 67.Ke6 Ba3 68.Rf3 Bb4 69.Rf4 Ba3
70.Rc4 Bf8 71.Bb7 1-0

Milicevic,D - Ben Morgan,B [A09] DGT XL Vancouver FIDE match (2), 27.09.2003

1.Nf3 d5 2.g3 c5 3.Bg2 Nc6 4.c4 d4 5.d3 e5 6.0-0 Bd6 7.Na3 Nge7 8.Nc2 0-0 9.a3
a5 10.b3 Bg4 11.h3 Bd7 12.Rb1 f5 13.Bd2 h6 14.Nh2 e4 15.Bf4 Bxf4 16.gxf4 Ng6
17.e3 Nh4 18.exd4 Nxg2 19.Kxg2 cxd4 20.b4 Qh4 21.b5 Ne7 22.Nxd4 Ng6 23.Ne2 Rad8
24.d4 Nxf4+ 25.Nxf4 Qxf4 26.Rb3 Qc7 27.Qe2 Rde8 28.Rc1 Qd6 29.d5 f4 30.f3 Bf5
31.Qf1 Qg6+ 32.Kh1 Qg3 33.Qg2 Bxh3 34.Qxg3 fxg3 35.fxe4 gxh2 36.Rxh3 Rxe4
37.Rxh2 Rd4 38.Rh5 b6 39.Re5 Rf2 ½-½

Morgan,B - Milicevic,D [B06] DGT XL Vancouver FIDE match (3), 28.09.2003

1.e4 d6 2.d4 g6 3.Nc3 Bg7 4.Be3 Nd7 5.Qd2 a6 6.Nf3 b5 7.Bd3 e6 8.a4 b4 9.Ne2 Rb8
10.0-0 Ne7 11.Bh6 0-0 12.Ng3 Bb7 13.Rfe1 c5 14.Bxg7 Kxg7 15.c3 Nc6 16.Rec1 f6
17.Qe3 bxc3 18.bxc3 Na5 19.Nd2 Qc7 20.Ne2 c4 21.Bc2 Rfe8 22.Rcb1 e5 23.Rb4 d5
24.Qg3 dxe4 25.Bxe4 Bxe4 26.Nxe4 Nb3 27.Rd1 Rxb4 28.cxb4 Qc6 29.d5 Qxa4 30.N2c3
Qxb4 31.d6 Nd4 32.Qh3 f5 33.Rb1 Nb3 34.Nd5 Qb7 35.Nc7 Rc8 36.Ng5 Nf8 37.d7 Qxc7
38.dxc8Q Qxc8 39.Qc3 Nd4 40.Qa5 Nb5 41.h4 h6 42.Nf3 Nd7 43.Qe1 e4 44.Rd1 c3
45.Nd4 Ne5 46.Nc2 Qc5 47.Rd8 Qe7 48.Rd5 Qe6 49.Rd8 Qb3 50.Qe2 Nd3 51.Rd7+ Kf6
52.Qe3 Qe6 53.Rb7 f4 54.Qe2 h5 55.g3 Nc5 56.Rb8 Qd6 57.Rg8 fxg3 58.Ne3 Nd3 59.f3
Nd4 60.Qa2 Nxf3+ 61.Kf1 Nb4 62.Rxg6+ Kxg6 63.Qg8+ Kf6 64.Qh8+ Kf7 65.Qh7+ Ke8
66.Qxe4+ Ne5 67.Qa8+ Qd8 68.Qa7 Qf6+ 69.Ke2 Qf2+ 70.Kd1 Qd2# 0-1

Milicevic,D - Morgan,B [C00] DGT XL Vancouver FIDE match (4), 28.09.2003

1.e4 e6 2.d3 d5 3.Nd2 c5 4.g3 Bd6 5.Bg2 Ne7 6.Ngf3 Nbc6 7.0-0 0-0 8.Re1 Bc7 9.c3
f5 10.Qe2 Ng6 11.Nf1 f4 12.Bd2 d4 13.e5 Bxe5 14.Nxe5 Ncxe5 15.gxf4 dxc3 16.fxe5
cxd2 17.Qxd2 Nf4 18.Re3 Nxg2 19.Kxg2 Bd7 20.Ng3 Qg5 21.Rg1 Bc6+ 22.Kf1 Qh6
23.Ne4 Bxe4 24.dxe4 Rad8 25.Qe2 Qxh2 26.Rg2 Qh1+ 27.Rg1 Qh2 28.Rg2 Qxe5 29.Reg3
Rf7 30.Kg1 Rfd7 31.Qg4 g6 32.Rh2 Rf8 33.Qe2 a6 34.b3 Rf4 35.Re3 Rd4 36.f3 Rd7
37.Kg2 Rf8 38.Qf2 Qd4 39.Qe2 Qd2 40.Kg3 Qxe2 41.Rhxe2 Rfd8 42.Rc2 b6 43.Kf4 Rd3
44.Rxd3 Rxd3 45.Ke5 Rxf3 46.Kxe6 Re3 47.e5 Kg7 48.Rd2 h5 49.Kd6 h4 50.e6 g5
51.Rf2 h3 52.e7 g4 53.Rf4 g3 54.Rg4+ Kf6 55.Rxg3 Re6+ 56.Kd5 Re5+ 57.Kd6 Re6+
58.Kd5 ½-½


SEPTEMBER BUGHOUSE OPEN by Ben Daswani

Eighteen brave souls showed up for the September Open Bughouse Tournament. One
was an American, thirteen were juniors and five were women (girls, actually). A
fun time was had by all, even those who only showed up because the tournament
was for a good cause. Hopefully, people such as Jack Yoos are now addicted to
bughouse tournaments and will come to subsequent ones.
The tournament lasted eight rounds and, due to four withdrawels after five
rounds, everyone recieved one bye, with the exception of the eventual winner...
Fanhao Meng! This was Fanhao's first bughouse tournament victory, and he
achieved it with a score of 32/48. In second was the top-seeded player, Gavin
Atkinson, with 30.5/48 and in third was (FM) Jack Yoos with 27/48. Tied for
fourth were Ben Daswani and (American) Chris Ashton with 26/48. Rounding out the
top 33% was Lucas Davies (aka Davieslucas) with 25.5/48.

Now after the tournament was over there were still eight people there. Now what
could possibly be better than a bughouse tournament? Perhaps two bughouse
tournaments in one day. So teams were randomly made, and a tournament was held
in which players had the same partner for the entire time. In the end, the team
of Noam Davies and Ben Daswani won with a score of 10/12. In second was the team
of Gavin Atkinson and Tiffany Tang with 7/12.

So what could be *even better* than two bughouse tournaments in one day? Perhaps
three. The remaining six people played yet another tournament, this time another
individual one. The winner was Gavin Atkinson with 13/18. In second was Ben
Daswani with 11/18 and in third was Noam Davies with 9/18.

Three bughouse tournaments in one day... nothing could possibly beat that
(except perhaps four bughouse tournaments in one day). Crosstables can be found
at www.bug.chessbc.com under "RESULTS".


VANCOUVER ADULT/JUNIOR GRAND PRIX

A total of 55 players took part in the inaugural tournament of this year's Grand
Prix, held at the Vancouver Bridge Centre on September 21st.  As reported in the
last issue, each tournament now has an Open Section in which adults are able and
encouraged to play alongside the juniors. The Open attracted 24 entrants, of
whom 9 were adults. It appeared there would be a large number of players tied
for first, but in the end Luc Poitras took home the first prize by winning his
game while his competitors only drew. Tied for second were Bruce Harper and the
Brothers Davies (Lucas and Noam). Manuel Escandor and American Lan van
Weerdhuizen tied for the U1800 prize, while fellow American Sterling Dietz took
the 2nd U1600 prize behind Tiffany Tang.

Brad Wong and Stefan Trandafir tied for first in the 14-player U1500 section,
followed by Lesley Cheng and Louie Jiang; Vlad Gaciu won the top U1300 prize
with Charlie Yan second. The 17-player Booster Section was won by Nikky Tsai,
Jimmy He, and Kyle King, who just managed to edge out two strong newcomers,
Kristof Juhasz (formerly Hungary) and Anokh Singh Dhillon (formerly Manitoba).

We hope to see you at the next event on October 19th (see the BCCF junior
schedule for details)!

Crosstables:

Open: http://www.chess.ca/xtable.asp?TNum=200309097
U1500: http://www.chess.ca/xtable.asp?TNum=200309071
Booster: http://www.chess.ca/xtable.asp?TNum=200309070

MAD CHESS FESTIVAL (Saturday 23 August 2003)


A total of 35 players, representing 57 entries, participated in the four events
of this mad festival. Pizza and fried chicken were provided by the organizer to
help create a party-like atmosphere.

The rated Mad Rapid was held concurrently with the non-rated Mad Active. Five
players (Gary Basanta, Bobby Meng, Gavrilo Bojovic, Alejandro Diaz and Yamei
Wang) took up the challenge to play simultaneously. Tables were set up side by
side to facilitate two games being played simultaneously. Four tables were
joined together when three simul players were playing each other in one of the
rounds. There were several rarely seen cases of an A player giving an simul to a
master and an expert. There were also cases of two simul players playing each
other on both boards. In summary, the concept provided a lot of entertainment
for the spectators.

At the end, IM Dave Ross, master Bobby Meng and former BC champion Dragoljub
Milicevic emerged from the 15-player rated Mad Rapid with 4-1 scores to tie for
first. The field of 3 former BC champions and 6 other master/experts made this
the strongest rated active event in BC since the 1991 BC Rapid Championship.

Former BC co-champion Mayo Fuentebella wisely declined the simul challenge to
win the 16-player non-rated Mad Active event with 4.5-.5. Ninth-ranked Yamei
Wang (4-1) was the surprise second place finisher from the very strong field of
3 masters and 4 experts despite playing simultaneously in both events! Special
mention must also be made for Bobby Meng who played concurrently in the last
round against two former BC champions on board 1 of both events!

FM Gary Basanta recovered from his poor "simul" results earlier in the day by
winning the 20-player Mad Blitz with 12-2! Mayo Fuentebella (11-3) and Bobby
Meng (10.5-3.5) were the second and third place finishers from the very strong
field of 4 masters and 6 experts!

Finally, FM Basanta scored 5.5/6 against four hardy souls in the clocked Mad
Simul. The only draw was conceded to Jason Feng who was playing two boards.

Many thanks to my assistant TDs James Kerry, Jason Feng and Robert Chow.

Chief TD, Organizer & Report: NTD Henry Chiu

[Crosstables can be found with this report at www.chess.bc.ca]


B.C. CHAMPIONSHIP

The 2003 edition of the B.C. Championship, the 88th in a series which began in
1916, will be held on the Thanksgiving Day weekend in Victoria.  We encourage
all qualified players to participate, particularly since this year's event is a
Swiss, whereas entries will be restricted in next year's invitational
Round-Robin.

So who have been the most successful B.C. champions, at least in terms of the
most provincial titles won?  The following lists all the players who have won
the championship three or more times:

7-time winner:
    John M. Ewing (1916, 1919-23, 1936)

6-time winners:
    Miervaldis Jursevskis (1949, 1950, 1954-57)
    Elod Macskasy (1958-62, 1967)

5-time winners:
    Jack M. Taylor (1929, 1930, 1938, 1945, 1953)
    Bruce Harper (1973, 1975, 1976, 1978, 1980)
    Gordon Taylor (1977, 1979, 1981-83)
    Gary Basanta (1989, 1991-93, 1998)

4-time winners:
    Bertram A. Yates (1917, 1918, 1921, 1940)
    Charles F. Millar (1931-33, 1937),
    Leo M. Duval (1941-43, 1946)
    Peter Biyiasas (1968, 1969, 1971, 1972)

3-time winners:
    William J. Barker (1924, 1926, 1928)
    Dragoljub Milicevic (1997, 2000, 2001)

Six of these players are still alive, but three of them will almost certainly
never play in B.C. again - Miervaldis Jursevskis, who is now in his eighties,
and Gordon Taylor and Peter Biyiasas, who both left the province long ago.
Bruce Harper is unlikely to compete for the championship again (although I'd
like to be proven wrong), and Dragoljub Milicevic, while still dangerous, has
not had stellar results of late.  So the person most likely to add to his total
is Gary Basanta, if he has enough ambition to play in the event again.

Of course, other players could soon be added to this list: Dan Scoones, Harry
Moore, or Jonathan Berry would become three-time champions if they won this
year's event. Jack Yoos could establish a dynasty, once he gets over his "hex"
and actually wins the title, while players such as Fanhao Meng are awaiting
their turn in the wings; the championship has a bright future ahead of it as we
approach the centenary competition.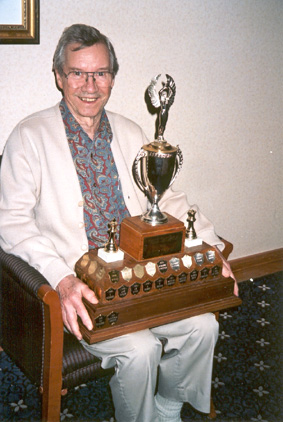 Miervaldis Jursevskis holding the current B.C. Championship Trophy

In considering multiple championship wins, it is also appropriate to mention the
championship trophies, since the two are related.  The current trophy (above)
has only been in use since 1956, and the individual plaques on it only go back
to 1944. Before 1956 there was a rule in force to the effect that if a player
won the championship three years in a row, he was given permament possession of
the trophy.

The first trophy was the Bowser Shield, which was awarded at the first
competition in 1916; it was given to John Ewing in the early 1920s after he won
the title for the sixth time, and he responded by donating the Ewing Cup as a
replacement. This was taken out of circulation by Charles Millar in 1933, and
he offered the Millar Cup in exchange. The Millar Cup was permamently won by
Leo Duval in 1943, and its replacement was undertaken by Chris Spencer.
Miervaldis Jursevskis was given the Chris Spencer Cup in 1956, at which point
the present trophy came into use; the plaques from the Chris Spencer Cup (i.e.,
1944 -1956) were copied onto it, which is why the trophy is younger than the
events it commemorates.

The next potential permanent winner of the trophy was Dr. Macskasy in 1960, but
either he declined or the BCCF decided it was losing too many trophies, because
the 1956 trophy has remained in use ever since. The Chris Spencer Cup is still
in the possession of Miervaldis Jursevskis, but the fate of the other previous
trophies is unknown, although there is a photograph of the Ewing Cup amid the
Max Enke papers at the B.C. Archives.


THIRTY YEARS AGO . . . by Bruce Harper

Thirty years ago Canadian Champion Peter Biyiasas was continuing his ascent to
Grandmasterdom. He tied for first in an invitational tournament in Norristown,
Pennsylvania with 7 1/2 points out of 11, scoring an interesting win over Edmar
Mednis along the way. Biyiasas,P - Mednis,E [B26] 1st USCF International,
Norristown (7), 23.06.1973

1.e4 c5 2.Nc3 Nc6 3.g3 g6 4.Bg2 Bg7 5.d3 d6 6.Be3 Rb8 7.Qd2 b5 8.Nge2 b4 9.Nd1
Nd4 10.0-0 e6

The opening has a very "modern" feel to it, for those who insist on pretending
that "modern" chess is somehow different from the way chess was played twenty,
thirty or fifty years ago. To me these moves just look normal. My comment back
then was that Black should consider 10...Nxe2+, as "White often develops his
knight to h3 in this variation to avoid exchanging it". It would have been more
accurate to have written "Suttles often develops his knight to h3 in this
variation..." And he still does!

11.Nc1! Ne7

It seems to me I had this exact position on ICC recently, and Black played
11...Nb5.

12.c3 bxc3 13.bxc3 Ndc6 14.Bh6 0-0 15.Bxg7 Kxg7 16.Ne3 e5 17.Nb3!?

An interesting move which I wouldn t have thought of playing myself - until
seeing this game again.

17...Ba6 18.f4 f6 19.Rf2

The idea of 17.Nb3 is apparent if Black insists on advancing ...c5-c4, in which
case White captures and it isn't so easy for Black to regain the pawn.

19...Qb6 20.Raf1 Na5 21.Nxa5 Qxa5 22.Bh3 Qb5 23.c4 Qb7 24.Be6!

White s "bad" bishop is now not so bad.

24...exf4 25.gxf4 Qb4 26.Qc1 Bc8 27.f5 gxf5?! 28.Rg2+! Kh8 29.Nd5! Qb7 30.Qh6
Ng8 31.Bxg8 Rxg8 32.Qxf6+ 1-0

That was fast!


UPCOMING EVENTS

Junior Events

Oct 12 Island Junior Open #2, Victoria
Oct 19 Grand Prix #2, Vancouver
Nov 1 Junior Open, Surrey
Nov 7-9 BC Junior Championship, Vancouver
Nov 16 Island Junior Open #3, Victoria
Nov 23 Grand Prix #3, Vancouver
Dec 6 BC - WA Match, BCIT

For full details see www.chess.bc.ca or http://members.shaw.ca/victoriachess/

Individual Chess Matches

Players interested in participating in rated individual chess matches with other
players of comparable or dissimilar ratings can contact Luis E. Azmitia at
azmitia@interchange.ubc.ca

Please make sure to include in the e-mail: your name, your rating, type of game
preferred (i.e. active), and the rating range of possible opponents. Note that
the games will be held in the Vancouver area.

Nick Beqo's Sunday Tournaments

Dates: Every Sunday (sunny or rainy), 12:00PM - 6:00PM
Location: Bear Creek Park, Surrey, B.C.
Further details: www.nickbeqo.com/chess/id125.htm


UBC's "Any Given Sunday" (1)

Dates: Sundays September 28, October 05, 12, 19, 26
Place: UBC Student Union Building, Room 215; except Sept 28 & Oct 19 (Room 213)
Rounds: 5 round Swiss System (one round per week)
Time: Rounds 12:00 -17:00
Time Control: 30 moves / 90 minutes, game / 60 minutes
Entry Fee: $15.00, $12.00 UBC CC members (available at site), $8.00 juniors, $Free to masters and those joining CFC/BCCF for the first time
Registration: 11:45 A.M.
Prizes: Based on entries ($$BEN) + Special Prizes courtesy of Chess First! Enterprises www.northshorechess.com
TD & Org: Jason Feng (phone 604-723-0215); Eduardo Azmitia: (phone 604-582-5586) e-mail: azmitia@interchange.ubc.ca
Misc: ½ pt byes available for rounds 1-4 when requested at least 24 hours before game time (by e-mail or phone to Eduardo)

UBC Tuesday Night Swiss October/November

Dates: October 7, 14, 21, 28, November 4
Place: UBC Student Union Building, Room 215
Rounds: 5 round Swiss System (one round per week)
Time: Round 1: a.s.a.p. after 7pm, Rounds 2-5 6:30pm
Time Control: 40 moves / 90 minutes, game / 60 minutes
Entry Fee: $15.00, $12.00 UBC CC members (available at site), $8.00 juniors, $Free to masters and those joining CFC/BCCF for the first time
Registration: 6:30 - 7:00 pm before round 1
Prizes: Based on entries ($$BEN)
Org & TD: Lyle Craver (phone 604-980-2040)
Misc: ½ pt byes available for rounds 1-4 when requested at least 24 hours before game time (in person or by phone only please)

B.C. Championship

Date: October 10-13
Site: University of Victoria, H&S Development Bldg.
Rating: must be over 2000
Entry fee: $35.00
Registration: Friday October 10th, 5:00-5:30 - 1st round 6:00.
Contact: L. Stringer 658-5207 or lynnstringer@shaw.ca

4th. Little Mountain Active Chess Tournament (Stage 2 of the Fall Grand-Prix)

Dates: Wednesdays October 15 & 22
Time: 7:00 P.M (registration at 6:45 P.M.)
Place: Little Mountain Neighbourhood House, 3981 Main St. Vancouver. (near King Edward Ave.)
Entry Fee: $3 non rated section; $10 rated section.
Juniors and Seniors always $5. Special discounts for families.
TOURNAMENT TYPE: 6 rounds; 30G; Swiss pairings.
CATEGORIES:
I) Open CFC rated* (open to any player with CFC rating and membership)
II) Open non-rated (no restrictions)
III) Junior rated
GRAND PRIX PRIZES: Trophies for 1st, 2nd, 3rd places of Open rated and U1700.
Medals for 1st non-rated and for best juniors.
Plus special prizes such as chess software, clocks, sets and gift certificates (Chess First! Enterprises).
TOURNAMENT PRIZES: 1st Place of each category gets a free entry
for a subsequent stage of the Fall Grand Prix, and a award certificate.
Organizers: Eduardo / Luis Azmitia Tel: 604-582-5586; Carmen Miranda Tel: 604- 879- 7104
Misc: Bring clocks and sets if possible.
Note: The tournament is organized thanks to the support of Little Mountain Neighbourhood House (http://www.littlemountainneighbourhoodhouse.bc.ca/) and Chess First! Enterprises (www.northshorechess.com)
*Visit (www.chess.ca) for details of membership to the Chess Federation of Canada.

Kelowna Harvest Fest Chess Tournament 2003

[CFC Rated]
Site: Boys and Girls Club 1633 Richter St., Kelowna BC
Dates: October 18-19, 2003
Entry Fee for Open: $25.00, $20.00 Srs. $15.00 Juniors (under 18 as of Oct 18th/03 and Seniors over 65.)
Entry Fee for Junior Tournament: $ 5.00
Type: 5 Rd. Swiss Open Section also 4 round unrated Junior Tournament Saturday Oct 18th
Time Control: 30 moves / 1.5hrs, SD / 1hr Open; game in one hour for Junior Tournament
Rounds: Saturday 9:00a.m. and 2:00p.m., and 7:00p.m. ; Sunday 10:00a.m. and 3:00p.m or ASAP.
Registration: 8am Oct 18th or by contacting Grant Rice
Contact: Grant Rice at 250-979-0009 or email ridebike@okanagan.net
Prize Fund: Entry Fees less expenses returned to prize fund. Prizes for Junior Tournament included in expenses
Please bring sets and clocks if possible.

Stop the Machine FIDE Invitational

Date: October 24-26, 2003
Place: Sprott-Shaw College, 2750 Rupert Street, Vancouver, BC
Rds: 5
Type: Regular closed 6-player RR, FIDE & CFC rated
Times: 6:30pm/10am, 3:30 pm/10am, ASAP
TC: 120+30
EF: $50 FIDE rated; $80 FIDE unrated, minimum CFC rating 2000
Prizes: 1st $150 plus ChessBase CD prize
Reg: interested FIDE-rated players please e-mail TD/Org:Vas Sladek, chessfm@shaw.ca or call 604-787-4553, 604-982-0611, players must pre-register by October 19, NO onsite registrations.
Misc: CFC membership required, no smoking, chess sets and clocks provided
Sponsors: Chess First! Enterprises www.northshorechess.com

Rethink the Cool

Date: October 24-26, 2003
Place: Sprott-Shaw College, 2750 Rupert Street, Vancouver, BC
Rds: 5
Type: Regular closed 6-player RR, CFC rated
Times: 6:45 pm/10am, 3:30 pm/10am, ASAP
TC: 90+30
EF: $30
Prizes: 1st $110 plus ChessBase CD prize
Reg: interested players please e-mail TD/Org:Vas Sladek, chessfm@shaw.ca or call 604-787-4553, 604-982-0611, players must pre-register, no onsite registrations.
Misc: CFC membership required, no smoking, bring chess sets, clocks provided
Sponsors: Chess First! Enterprises www.northshorechess.com

UBC's "Any Given Sunday" (2)

Dates: Sundays November 2, 9, 16, 23, 30
Place: UBC Student Union Building, Room 215
Rounds: 5 round Swiss System (one round per week)
Time: Rounds 12:00 -17:00
Time Control: 30 moves / 90 minutes, game / 60 minutes
Entry Fee: $15.00, $12.00 UBC CC members (available at site), $8.00 juniors, $Free to masters and those joining CFC/BCCF for the first time
Registration: 11:45 A.M.
Prizes: Based on entries ($$BEN) + Special Prizes courtesy of Chess First! Enterprises www.northshorechess.com
TD & Org: Jason Feng (phone 604-723-0215); Eduardo Azmitia: (phone 604-582-5586) e-mail: azmitia@interchange.ubc.ca
Misc: ½ pt byes available for rounds 1-4 when requested at least 24 hours before game time (by e-mail or phone to Eduardo)

Silver Star Classic: Qualifier for the BC Closed

Note: NEW Site: Holiday Inn Express 4716 34th St. Vernon B. C. (one
block north of London Drugs and off Hwy 97.) ph 250.550.7777
Dates: Nov 8 & 9, 2003
Entry Fee : $25.00, $20.00 Srs. $15.00 Juniors (under 18)
Type: 5 Rd. Swiss Open Section
Time Control: 30 moves / 1.5hrs, SD/1hr;
Rounds: Saturday 10:00a.m. and 2:30p.m., and 7:30p.m., Sunday 10:00a.m. and 3:00p.m or ASAP.
Registration: 9 a.m. Nov. 8 or by contacting Wally Steinke
TD & Contact: Wally Steinke 250.545.6677 or email wsteinke@sd22.bc.ca
Prize Fund: Entry Fees less expenses returned to prize fund.
Please bring sets and clocks; half pt byes available

UBC Tuesdy Night Swiss November/December

Dates: November 18, 25, December 2, 9, 16
Place: UBC Student Union Building, Room 215
Rounds: 5 round Swiss System (one round per week)
Time: Round 1: a.s.a.p. after 7pm, Rounds 2-5 6:30pm
Time Control: 40 moves / 90 minutes, game / 60 minutes
Entry Fee: $15.00, $12.00 UBC CC members (available at site), $8.00 juniors, $Free to masters and those joining CFC/BCCF for the first time
Registration: 6:30 - 7:00 pm before round 1
Prizes: Based on entries ($$BEN)
Org & TD: Lyle Craver (phone 604-980-2040)
Misc: ½ pt byes available for rounds 1-4 when requested at least 24 hours before game time (in person or by phone only please)


5th. Little Mountain Active Chess Tournament (Stage 3 of the Fall Grand-Prix)

Dates: Wednesdays November 19 & 26
Details: see October 15 Active
Jack Taylor Memorial
Dates: November 22-23, 2003
Place: UVic HSD Bldg.
Time Control: 40 moves / 90 minutes, game / 60 minutes
Entry Fee: $25.00, $20.00 for Juniors and Seniors
Prizes: Based on entries ($BEN)
Org & TD: Lynn Stringer (phone 250-658-5207) or email lynnstringer@shaw.ca
Misc: Entry fees minus expenses will be returned as prizes


Abuse your illusions
Date: November 28-30, 2003
Place: Sprott-Shaw College, 2750 Rupert Street, Vancouver, BC
Rds: 5
Type: Regular closed 6-player RR, FIDE & CFC rated
Times: 6:45 pm/10am, 3:30 pm/10am, ASAP
TC: 120+30
EF: $50 FIDE rated; $60 FIDE unrated, $30 for titled players
Prizes: 1st $150 plus ChessBase CD prize
Reg: interested FIDE-rated players please e-mail TD/Org:Vas Sladek, chessfm@shaw.ca or call 604-787-4553, 604-982-0611, players must pre-register, no onsite registrations.
Misc: CFC membership required, no smoking, DGT chess sets and clocks provided
Sponsors: Chess First! Enterprises www.northshorechess.com


I want everything
Date: Saturday November 28-30, 2003
Date: November 28-30, 2003
Place: Sprott-Shaw College, 2750 Rupert Street, Vancouver, BC
Rds: 5
Type: Regular closed 6-player RR, CFC rated
Times: 6:45 pm/10am, 3:30 pm/10am, ASAP
TC: 90+30
EF: $30
Prizes: 1st $110 plus ChessBase CD prize
Reg: interested players please e-mail TD/Org:Vas Sladek, chessfm@shaw.ca or call 604-787-4553, 604-982-0611, players must pre-register, no onsite registrations.
Misc: CFC membership required, no smoking, bring chess sets, clocks provided
Sponsors: Chess First! Enterprises www.northshorechess.com

6th. Little Mountain Active Chess Tournament (Stage 4 -final- of the Fall Grand-Prix)

Dates: Wednesdays December 10 & 17
Details: see September 17 Active

Kamloops Grand Prix 2004

Details: see the BCCF website

Chess First! FIDE Invitational

Date: April 8-12, 2004
Type: Regular closed 10-player RR, FIDE & CFC rated
Reg: interested FIDE-rated players please e-mail TD/Org:Vas Sladek, chessfm@shaw.ca or call 604-787-4553, 604-982-0611, players must pre-register by April 1, 2004, NO onsite registrations.
(Details coming later.)