BCCF E-MAIL BULLETIN # 8


This will be the last complete bulletin of 2002.  The next scheduled 
publication date would be December 25th; for obvious reasons there will be no 
publication on that day, but instead a few days later I will send out just 
the tournament announcements and perhaps a few chess problems.  Watch for the 
next full bulletin on January 8th, 2003.

Let me take this opportunity to wish everyone seasonal greetings and a happy 
new year!

Stephen Wright


B.C. - WASHINGTON SCHOLASTIC MATCH

The 12th edition of this annual international junior match, played at History 
House, Seattle on December 7th, was won resoundingly by Team Washington 30.5 
- 17.5.  Despite playing White in  Round 1 the B.C. team was outscored 2-1 
(16.0 - 8.0), and faired little better in Round 2 (9.5 - 14.5), resulting in 
the lopsided victory for the home side.  Washington thus gained revenge for 
the dramatic come-from-behind B.C. win last year.  

Bright spots for B.C. were Thomas Chow (Grade 4), Noam Davies (Grade 6), 
Valentina Goutor (Grade 8), Fanhao Meng and Lucas Davies (both Grade 9) and 
Gavin Atkinson (Grade 12), all of whom won both their games.  Unfortunately 
for B.C. Alec Ho and Nicholas Orlov (both Grade 1 - Nicholas is the son of IM 
Georgi Orlov), Michael Omori (Grade 2), Igor Ummel and Michael Lee (both 
Grade 3), Kyle Rieb (Grade 5), Meir Lakhovsky (Grade 7), Prithvi Shankar 
(Grade 10), and Sam Haynor (Grade 11) achieved the same feat for Washington.

The time control for grades 4-6 was 60 minutes per player, for grades 7-12 90 
minutes per player. Clocks were not used for the lowest grades. Many thanks 
to the players, their parents and coaches, with a special thank you to the 
organizers, Bill Lee and Katherine Davies (B.C.) and Kirk Winges 
(Washington). 

Individual results and some photos at the K-12 web site (see below).


JUNIOR SPEED AND SIAMESE TOURNAMENTS by Bruce Harper

On December 8, 2002, about 25 players took part in the B.C. Junior Speed 
Championship and the B.C. Junior Siamese Championship qualifying tournament, 
as well as enjoying pizza and other delectables at the annual junior 
Christmas party.

The B.C. Junior Speed Championship consisted of a 10-round Swiss with a twist 
- in the first five rounds, a single game was played, and in the last five 
rounds, two games were played each round.  Thus 15 games were played by each 
participant.  The top four advanced to a final double-round robin, with the 
scores from the Swiss being carried over.

Here were the results by age categories:

17+ 
Gavin Atkinson  11.5    
15-16   
Ben Daswani  9.0    
13-14   
Valentina Goutor  10.0  
Lucas Davies  9.0   
Lane V.  8.5    
Jamie Harper  8.0   
Andrea Cheng  7.5   
Andrey Kostin  7.5  
Winston Ho  6.0 
Neil Atkinson  4.5  
11-12
Noam Davies  10.5
Brad Wong  9.0
Tiffany Tang  7.5
Lesley Cheng  7.5
Laura Harper  7.0 
Danny Yu  7.0
Sterling Dietz  6.0
Alisa Young  5.0
9-10
Bryan Young  8.0
Thomas Witecki  8.0
Kyle King  5.0

Evgeni Goutor, who played as an honorary junior, scored 7.5 points, only 2.5 
points behind his daughter Valentina - easily beating the point spread.

Gavin Atkinson, Valentina Goutor and Noam Davies were joined in the final by 
Brad Wong, who defeated Ben Daswani and Lucas Davies in a playoff.  Gavin, 
taking a one-point lead into the final, ultimately won the overall B.C. 
Junior Speed Championship.

The following players will have their names engraved on the prestigious 
Dives, Grauer and Harper B.C. Junior Speed Championship perpetual trophy, 
which was generously donated last year by the law firm of Dives, Grauer and 
Harper:

Overall Champion: Gavin Atkinson
15-16   Ben Daswani
13-14   Valentina Goutor
11-12   Noam Davies
9-10    Bryan Young (Thomas Witecki was ineligible, being from the U.S.)
0-8 No competitors

The B.C. Junior Siamese Championship was held in the afternoon, but due to a 
late start it wasn't possible to hold the finals.  Five rounds were played, 
with six games per round (in groups of four), for a total of 30 games.

Here are the results by age categories:

17+
Gavin Atkinson  23  
15-16   
Ben Daswani  18 
13-14   
Lucas Davies  17    
Lane V.  9  
Jamie Harper  15    
Andrea Cheng  14    
Andrey Kostin  14   
Winston Ho  14  
Neil Atkinson  11   
11-12
Noam Davies  8
Brad Wong   16
Tiffany Tang  15
Lesley Cheng  16
Laura Harper  13 
Danny Yu  18
Sterling Dietz  9
Alisa Young  12
Cameron Miller  11
9-10
Bryan Young  15
Thomas Witecki  9
Kyle King  8
Former juniors  
Bruce Harper  23    
Tyler Johnson  20       
Dave Peters  9      

Gavin Atkinson, Ben Daswani, Bruce Harper and Tyler Johnson (the latter two 
eligible under BCCF rules as former juniors [???? ed.]) qualified for the 
four-person final, to be played over the Christmas holidays.

The age category winners for the B.C. Junior Siamese tournament, whose names 
will be immortalized on the Siamese perpetual trophy, were:

15-16   Ben Daswani
13-14   Lucas Davies
11-12   Danny Yu
9-10    Bryan Young
0-8 No competitors


NEW WEB SITES (at least new to me!)

K-12 Chess Assocication of B.C.  - tournament announcements and information 
concerning junior chess, from the K-12 association.

Lower Mainland Chess Team Results  - individual results from the Lower 
mainland chess club team championship.

www.chess4us.dynu.com  - a free site, provided by Barry Bell, for chess 
instructors and masters.


THIRTY YEARS AGO by Bruce Harper

For the holiday season, here is a dubious gift - an endgame composition which 
I authored 30 years ago.  I had forgotten about it, so I don't feel 
responsible for any aesthetic or analytical flaws which it might contain.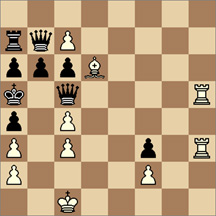 WK c1  WR h3, h5  WB d6  WP a2, a3, c3, c4, c7, f2
BK a5  BQ b7, c5  BR a7  BP a4, a6, b6, c6, f3

White to play and win.

(Yes, Black does have two queens, at least to start).

E-mail your solutions to the editor.  If you "cook" the problem, by finding a 
draw or win for Black, let us know!  The solution will appear next year...


UPCOMING EVENTS

Upcoming junior events:

January 5  Vancouver Grand Prix #4
January 12  Island Junior Open #4
January 26  BCIT Junior Open
February 1  Elementary Team Championship
February 9  Island Junior Open #5
February 16  Vancouver Grand Prix #5
February 22  Secondary Team Championship

For details visit  British Columbia Chess Federation  or  Greater Victoria 
Junior Chess  

UBC Tuesday Night Swiss - January - February 2003

Dates: January 7th, 14th, 21st, 28th, February 4th
Place: UBC Student Union Building, Room 212
Rounds: 5 round Swiss System (one round per week)
Time: Round 1; a.s.a.p. after 7pm, Rounds 2-5 6:30pm
Time Control: 40 moves / 90 minutes, game / 60 minutes
Entry Fee: $15, $12 UBC CC members (available at site), $8 juniors, $Free to 
masters and those joining CFC/BCCF for the first time
Registration: 6:30 - 7 pm before round 1
Prizes: Based on entries ($$BEN)
Org & TD: Lyle Craver (604) 980-2040
Misc: half point byes available for rounds 1-4 when requested at least 24 
hours before game time (in person or by phone only please - no e-mail bye 
requests!) Please bring sets, clocks, etc.

Dan MacAdam Memorial Tournament

Date: January 18th and January 19th 2003
Type: 5 Round Swiss
Entry Fee: $35 Regular, $25 for Juniors
Prize Fund: 100% of EF minus Expenses
CFC Rated
Time Control 40/90 minutes - SD/1 Hour
Location: University of Victoria, Human & Social Development Building, Room 
A-260
Registration: January 18th 8:30AM at the site.
Organizer & TD: Lynn Stringer
Contact: Lynn Stringer at lynnstringer@shaw.ca ; Tel (250) 658 5207

Kelowna Winter Fest

Dates: Feb. 8 & 9, 2003
Type: 5 Round Swiss
Times: 9/2/7; 9/asap
Place: Sandman Inn Kelowna B.C. 2130 Harvey Ave across from Orchard Park Mall 
(250) 860-6409
Entry: $25, $20 Seniors, $15 Juniors Non CFC pay entry + $12
Prizes: BEN
TD & Org Lynn Stringer, Wally Steinke & Ian Higgs wsteinke@sd22.bc.ca ph 
(250) 545-6677 ianofski@cablelan.net

UBC Tuesday Night Swiss - February - March 2003

Dates: February 11th, February 18th, February 25th, March 4th, March 11th
Place: UBC Student Union Building, Room 212
Rounds: 5 round Swiss System (one round per week)
Time: Round 1; a.s.a.p. after 7pm, Rounds 2-5 6:30pm
Time Control: 40 moves / 90 minutes, game / 60 minutes
Entry Fee: $15, $12 UBC CC members (available at site), $8 juniors, $Free to 
masters and those joining CFC/BCCF for the first time
Registration: 6:30 - 7 pm before round 1
Prizes: Based on entries ($$BEN)
Org & TD: Lyle Craver (604) 980-2040
Misc: half point byes available for rounds 1-4 when requested at least 24 
hours before game time (in person or by phone only please - no e-mail bye 
requests!) Please bring sets, clocks, etc.

UBC Tuesday Night Swiss - March - April 2003

Dates: March 18th, March 25th, April 1st, April 8th, April 15th
Place: UBC Student Union Building, Room 212
Rounds: 5 round Swiss System (one round per week)
Time: Round 1; a.s.a.p. after 7pm, Rounds 2-5 6:30pm
Time Control: 40 moves / 90 minutes, game / 60 minutes
Entry Fee: $15, $12 UBC CC members (available at site), $8 juniors, $Free to 
masters and those joining CFC/BCCF for the first time
Registration: 6:30 - 7 pm before round 1
Prizes: Based on entries ($$BEN)
Org & TD: Lyle Craver (604) 980-2040
Misc: half point byes available for rounds 1-4 when requested at least 24 
hours before game time (in person or by phone only please - no e-mail bye 
requests!) Please bring sets, clocks, etc.

Kitsilano Beach FIDE tournament

Date: March 28-30, 2003
Place: SPEC, 2150 Maple Street, Vancouver, BC
Rds: 5
Type: Regular 6-player RR, CFC & FIDE rated
Times: 6:30pm/10am, 3pm/10am, ASAP
TC: FIDE 90+30
EF: $40 FIDE rated, $50 FIDE unrated
Prizes: 1st $140 plus Fritz 8 software, all players receive CB CD prizes
Reg: interested FIDE rated players and ambitious unrated players please
e-mail: chessfm@shaw.ca
TD & Org: Vas Sladek, 604-982-0611
Misc: no smoking
Sponsors: Polaris Water Company www.polariswater.com and Chess First!
Enterprises www.northshorechess.com

English Bay FIDE Tournament

Date: April 25-27, 2003
Place: SPEC, 2150 Maple Street, Vancouver, BC
Rds: 5
Type: Regular 6-player RR, CFC & FIDE rated
Times: 6:30pm/10am, 3pm/10am, ASAP
TC: 90+30
EF: $40 FIDE rated, $50 FIDE unrated
Prizes: 1st $140 plus Fritz 8 software, all players receive CB CD prizes
Reg: interested FIDE rated players and ambitious unrated players please
e-mail:
Vas Sladek, chessfm@shaw.ca
TD/Org: Vas Sladek, 604-982-0611
Misc: no smoking
Sponsors: Polaris Water Co. www.polariswater.com and Chess First!
Enterprises www.northshorechess.com

Kelowna Summer Fest

Dates: July. 5 & 6, 2003
Type: 5 Round Swiss
Times: 9/2/7; 9/asap
Place: Sandman Inn Kelowna B.C. 2130 Harvey Ave across from Orchard Park Mall 
(250) 860-6409
Entry: $25, $20 Seniors, $15 Juniors Non CFC pay entry + $12
Prizes: BEN
TD & Org Lynn Stringer Wally Steinke & Ian Higgs wsteinke@sd22.bc.ca ph (250) 
545-6677 ianofski@cablelan.net